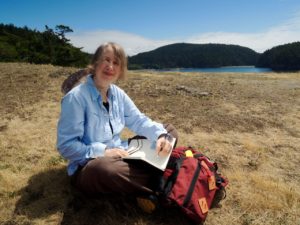 Early and repeated exposure to the Brothers Grimm made me determined to seek adventures in foreign lands when I grew up. I joined the Peace Corps, spending three years in Morocco, where I learned Arabic, taught blind students, and cooked a mean chicken tajine. Later, I learned the craft of editing at The New England Journal of Medicine, then honed my skills as a teacher, correcting high school English papers on both coasts.
In my essays, I write about books, Morocco, and growing up in suburban New Jersey without a television. I've written about being stuck with the meanest teacher in Waldorf education, life as the sports-hating parent of a natural athlete, and how literary maternal figures from my childhood, like Ma Ingalls and Marmee, have inspired me as a mother.
I am editor of Creative Nonfiction at Literary Mama and live with my family in Portland, Ore.
Contact: oceanreader@gmail.com